As someone new to DKC and relatively new to New York City, I was excited to experience my first Advertising Week this fall. For those unfamiliar, Advertising Week is an annual event bringing together marketing and communications leaders in New York City for panels, workshops, thought leadership seminars and networking opportunities. Over the years, it has also become a major opportunity for companies to break news.
One might think, "Why is Advertising Week relevant for a PR practitioner?" Those of us in PR are frequently asked to explain the difference between advertising and public relations. But in my case, since I represent an online advertising business, and in the case of many others at DKC who work with advertising companies – Advertising Week is a great opportunity to showcase our clients. Beyond that, as the lines between traditional PR, advertising, marketing and social media continue to blur, it has become increasingly important for PR professionals to take a holistic approach to communications, which means keeping an eye on the news throughout the entire industry.
With that goal in mind, I attended a session, co-presented by Lauren Weinberg, Vice President of Strategic Research and Insights at Yahoo!, and Simon Bond, CMO, BBDO, entitled "What's Your Story?".

The presentation focused on the results of a research study designed to establish best practices for brand storytelling in the new era of paid, owned and earned media. Similar to how crucial it is for public relations professionals to be aware of the ways in which new media impacts the ways we tell stories on behalf of clients, brand marketers must acclimate to the ever-changing media landscape, and the needs and wants of increasingly engaged consumers. The presentation likened the ways in which brands interact with consumers to the three stages of a relationship:
Stage One: Paid media is akin to a first date. In the field of advertising, and the same holds true with personal relationships, first impressions are key. A successful brand must be attractive and intriguing via the initial interaction – a display ad, paid search ad or sponsorship – which will establish a connection with the consumer that will make him or her want to learn more about the brand and actively engage other channels to do so.
Stage Two: Owned media is where you start to fall in love. Once a brand has established an initial connection in a consumer's mind, it must then differentiate itself from other brands in the marketplace. In this phase, a consumer would seek out ways to more deeply understand the brand, including visiting the website or Twitter feed, and begin to form an emotional connection.
Stage Three: Earned media is like being in a relationship. This is the phase in the brand relationship where consumers play the most important role, as they participate in the brand narrative and engage in storytelling themselves by contributing to social channels, including Twitter, Facebook and personal blogs. While earned media is the result of genuine consumer engagement, once consumers get to this phase in the "relationship", they also have higher expectations from brands. In order to fully capitalize on the earned media opportunity, it is essential for brands to continue to respond to what is happening in the moment and reflect their "human" side.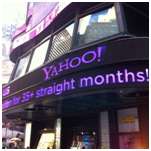 While many findings from this research apply specifically to the advertising industry, the overarching insights translate in to solid public relations counsel. To be successful in the public relations sphere, practitioners must be aware of the evolution in the ways audiences are consuming, as well as influencing, media and what their expectations are from each channel. It is also imperative to advise clients that interactions between their company and key constituents must truly be approached as a relationship – focused on genuine and authentic engagement in ways that empower consumers to become loyal, brand advocates.
By Mary Salvaggio, Account Supervisor