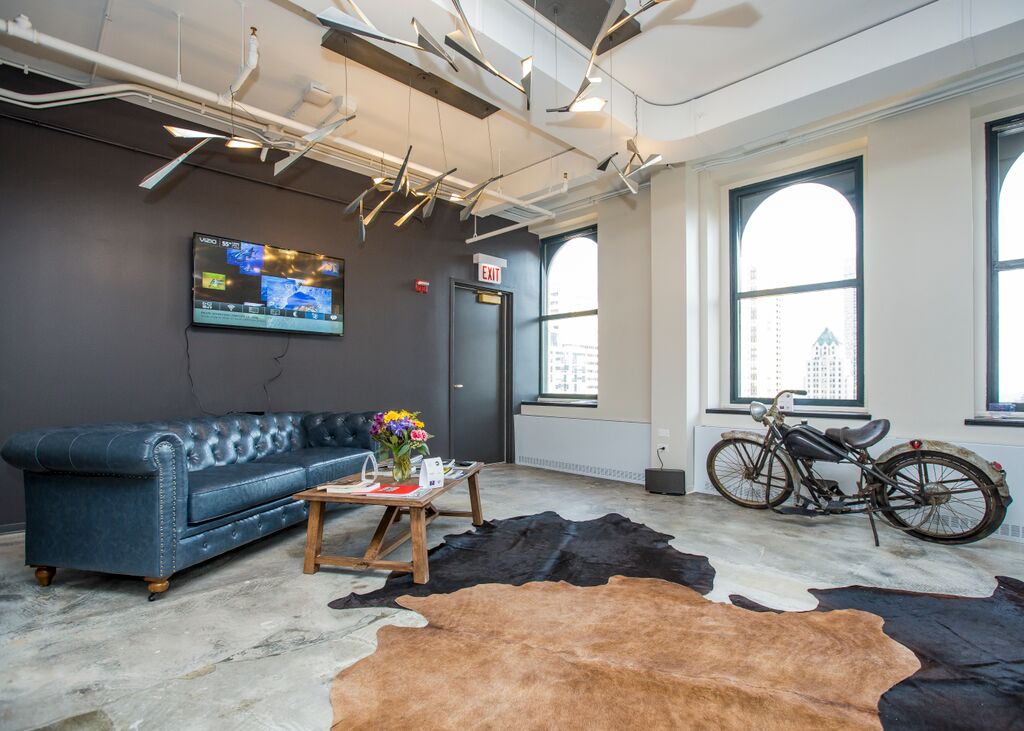 The team at DKC Chicago celebrated their new office grand opening late last week with a private event for clients, local media and industry business leaders.Based on the 35th floor of the historic Jewelers Building at 35 E. Wacker Drive, the agency's new space blends rich tradition with a decidedly modern aesthetic. 360-degree views of Chicago's downtown and a completely open working space contribute to collaboration and bold creativity.
"It has been an honor and a privilege to build this business for DKC in Chicago," says Currey. "Over the past year we've put together a rock star team, brought on incredible clients and now we have an office space that represents our personality and vision for the future."
The office, designed by Currey is a completely open work space and built to foster creativity and big thinking. The office features a one-of-a-kind graffiti wall, custom lighting, self serve bar, a vintage motorcycle and a traditional Chau gong to celebratetheteam's successes.
For the office's grand opening on Thursday, September 24th, guests enjoyed signature cocktails provided by Jack Daniel's and Courvoisier, along with craft beer selections from Goose Island Beer Company while SoulCycle gifted complimentary class certificates for their new Chicago loop location. Regionally-inspired fare, created to enhance the party's speakeasy theme, was provided by top upscale caterer, Entertaining Company, whose CEO Wendy Pashman is teaming up with DKC to launch her newest venture, The Storied Table.
The night was a huge success and marks the beginning of a new chapter in DKC history.