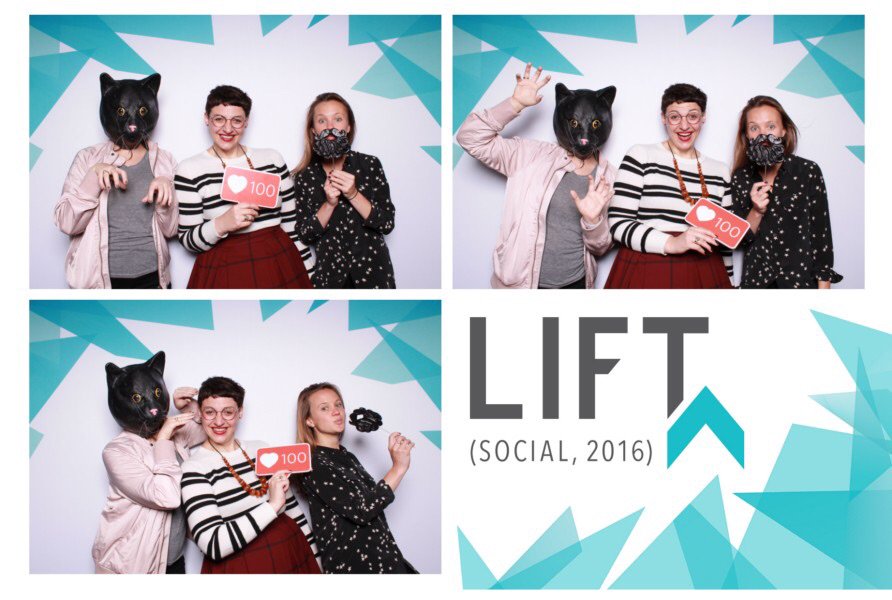 Social analytics platform Simply Measured hosted their annual LIFT Conference in Seattle on Sept. 20-22. DKC Connect's Senior Strategists Maya Hutchinson and Dixie Roberts and Vice President Whitney Little headed west to to learn about measuring influence, the future of live streaming, integrating social with other marketing data, and more. Coming back refreshed (and slightly overcaffeinated from Seattle's best coffee), the ladies shared their biggest takeaways.
---
LIFT 2016 brought together a great mix of experience and insights from industry leaders. A theme that resonated throughout the conference was social engagement. There is a heavy debate in the industry around when and where to report and measure engagement on social. Conclusion: while it shouldn't be completely ignored, it is not a hard metric that can be tangibly tied to results.  If your campaign objective is driving followers, users, donors, or buyers, then you should not be focused on social engagement.
In a report, it can be helpful to include some nice color and context on your campaign, but it should not drive decision making around optimization or budget allocation. This is where we can see the hard and soft of social reporting, and where social media managers can continue to prove the importance of social in a organizations if they focus first on hard number and facts that contribute to overall ROI – not just engagement.
Another important topic at LIFT was Dark Social. With the rise of chat platforms like Kik, Snapchat chat, Facebook Messenger and iMessage, more and more of our audience is engaging with social outside of trackable channels. We need to be increasingly aware of where our social content is living and it's not always on the platform where you posted it!  The rise of chat tools and chatbots will only increase the likelihood that users will be untracked, for now. Undoubtedly, we'll see more robust reporting tools and capabilities moving forward but for now we'll just call it Dark Social.
---
I'll admit it: I'm a decaf drinker, so I spent the majority of the conference making sure my colleagues were properly caffeinated and not over indulging (ahem, Dixie, below). Everyone I saw speak was incredibly insightful, but there were a couple of "Aha!" moments I had:
-Lindsey Sanford, VP of Content and Social for Symphony Talent, had this great ability of taking concepts I already knew about and packaging them in a new way that made even more sense – especially when it comes to translating social data to clients. A big focus of her talk was the "See, Think, Do" method, which outlines the three stages of the consumer purchasing process. So often our clients' goals are to get to the "Do" (conversions) portion of this method, without focusing on the "See" (visibility and awareness) or "Think" (engagement). We have to get consumers through each step before they commit to a purchase. And the metrics for each stage are going to be different, which is often a frustrating process on which to place an ROI. Her way of breaking this down gave me insight on how to pass this information along to clients in an easy, digestible way.

-Vishal Shah, Head of Monetization at Instagram, was my favorite speaker. (Is it OK to choose favorites? I'm doing it anyway.) I'll admit Instagram is one of my can't-live-without platforms, but that's not why I enjoyed his session. I loved taking a peek behind the curtain, learning what drives Instagram to be such a successful platform, and hearing his three must-follow rules for any ad. First: Capture the consumers' imagination. Second: Design for the frame. Third: Inspire others to take action. It sounds so simple, but as Shah put it, "The simple things are the hardest." Plus, he took a stance on engagement by stating there is not a direct correlation between likes and comments and one's business objectives. As a member of a team that deals with so many metrics outside of engagement, this was music to my ears.

---
Dixie Roberts, Senior Digital Strategist
I think I by far drank the most coffee! Between sips of some of the best brew I've ever had (shout out: Monorail Espresso, Honor Coffee and Starbucks Reserve), I took some fast and furious notes from my favorite sessions. My top takeaways:
-Chris Moody, VP of Data Strategy for Twitter, spoke about the importance of Twitter for customer service initiatives. He particularly focused on the overly public conversation and microphone that Twitter provides for users and how brands are hesitant to truly take advantage of this public platform, even though it offers a dynamic that plays to their advantage. He stressed the importance of embracing a public dialogue, as it offers a, "truly powerful experience for both brands and customers." Most notably, Moody spoke about "embracing the DM," using this Twitter feature to truly, "nail the customer service experience."
-Carmen Villafañe, Director of Communications at Complex, implored her session's audience to pay attention to youth culture and who they are interested in. They are an aspirational generation who crave authenticity and these are characteristics that cannot be ignored.  Complex is to me, an aspirational brand, so hearing how they gain and sustain an audience was of particular interest. Complex, according to Villafañe, and any successful brand who aspires to have their finger on the pulse of pop culture, must be about what is NEXT not what is now. The best thing she said: Brands must "grow or die." She also stressed the importance of an innovating team — instead of hiring a social media manager for your growing team, hire a graphic designer or a film editor, someone who can take your content to the next level in an age when imagery and video is king.
-Bob Safian, Editor-In-Chief at Fast Company, piggybacked on Villafañe's session by speaking about "Generation Flux" — a generation less defined by age and more defined by their ability to be agile and adapt to change. His opening keynote was an inspiring way to start our last day at Lift, and a thought-provoking takeaway was his focus on "fixed mindset vs. growth mindset." Those with a growth mindset have no fear of embarrassment or failure when faced with new and challenging tasks, they are agile and believe they can learn and grow quickly. These types of people offer companies a great advantage as they are fearless in the face of continued change in this digital landscape.