I just came back from a week in France with my family, celebrating a milestone birthday for my mom. Spending a week in the serenity of southern France does something amazing to a New Yorker's way of life – it slows it to an almost unrecognizable leisurely pace.
The day before I left for France, I found myself acting more impatient than ever, a trait I'm not proud of. I was silently annoyed with the woman on line in front of me at Starbucks who couldn't decide what drink to order. New Yorkers are often blamed for this on-edge attitude and there I was, in the flesh, exemplifying the negative stereotype of agitation New Yorkers get a bad rep for. A vacation couldn't have come at a better time.
As expected, while in Provence, I was in sensory overload; the smells, tastes and sights were all incredible. I took a cooking class at a French chef's private mansion that dated back to the 17th century. I sampled wines at a local vineyard. I wandered, sans map, around small, mountainous villages just for the sake of exploring. I ate fresh breads and cheeses, and held back from calorie counting. I lost myself in a local marketplace amidst spices and handmade bars of soap. I found a skinny, stray cat and brought it sliced meat. I sat down for a two-hour lunch in the town of Cassis, a gorgeous waterfront village, and absorbed the scenery of passersby and anchored boats bobbling along the sea's surface. I fell asleep every night to the sounds of frogs croaking in the lily pond outside my window. I hiked 10 miles between two villages, not because I had to (there was a shorter bus route) but just because I could. In the heart of Provence, I found myself losing track of time, even losing track of what day of the week it was. I was in a complete state of relaxation, unrestricted by scheduled meetings or project deadlines.
Life is too short not to enjoy it to the fullest. Too often we get wrapped up in the chaos of professional commitments and we lose sight of how to maintain a healthy balance of work and play. This vacation reminded me of the importance of finding that balance – that once in a while we all need to take a moment to stop and smell the roses, or the lavender, as the case may be.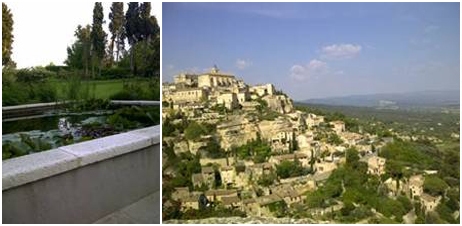 Traveling in France not only made me reconsider my outlook on life, but as a painter, the trip was so artistically fulfilling. I have been oil painting since I was eight years old. Oil is a complicated medium for someone that young to pick up, but even at that age I knew what the "real artists" painted with and I wanted to produce works of art just like theirs. I took oil painting classes for seven years, painting scenic views and portraits that would soon decorate my entire home. In college, I transitioned to watercolors, which is an easier medium to work with and take from place to place. Post-college, I unfortunately hadn't made it a high priority to paint — not by choice, but because work and personal obligations had kept me busy. While in France, I felt inspired to pick the paintbrush back up again.
So now I am back from my vacation, trying to fall asleep in the city that never does sleep. I wake up earlier and walk twice as purposefully to get to work on time. And no, the frogs don't sing me lullabies and the scenery isn't nearly as captivating, but the artist in me has learned to appreciate the colors and the beauty of New York City.
Written by: Missy Krowne