Hormel Foods have been a staple of the American diet since the 1800s. Few meals warm us up on a winter day quite like Hormel chili, and their more recent Rev Wraps offer a perfect snack on-the-go. Their dedication to providing top-quality, delicious products is what has propelled Hormel to become an American icon and one of the biggest food providers in the nation. And this didn't happen overnight.
Hormel has a long history of being dedicated to quality. With a story that goes back to the 19th century, there have been plenty of opportunities for the company to take the easy way out, cutting corners for another dollar of profit. However, Hormel has chosen to remain faithful to their purpose of providing quality foods to the American people, even when the going got tough.
Early History: The Road to Minnesota
George A. Hormel was born in Buffalo, New York in 1860. Soon after, his parents — both immigrants — moved the family to Toledo, Ohio. There, his father John George founded a tannery business. There, George learned the trade, helping his father on the weekends. Things were good for the Hormels until the economic downturn of 1873, which nearly ran John George out of business. Soon, young George began going from job to job, including jobs in the meat market.
In the late 1870s, George moved to Chicago, which had just become the pork-packing capital of the country. There, he worked in his uncle's market, learning how to process and package meat. After years of long hours and meager wages, George decided he had had enough and moved to Kansas City. There, he secured a job as a wool buyer, but his employer disappeared after embezzling $100,000 from the company. He moved back to Chicago, finding employment as a traveling hide trader. It was this job that gave George his first taste of Minnesota.
George stayed in the hide-trading industry for years, but became more and more restless. It was a simple question from his father — "When are you going to begin working at something you can show me in thirty years?" — that led George to seek a new line of work in his own business. As luck would have it, he learned of a meat market in Austin, Minnesota that had recently burned down. The owner rebuilt it, but had no desire to operate it. So, George bought a share of the place in 1887 with a $500 loan from his now-former employer. When he and his partner parted ways after a dispute in 1891, he rebranded the market as Geo. A. Hormel and Company.
Struggling to Stake a Claim in the Industry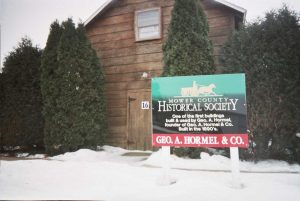 The meatpacking industry was one of the biggest in the nation by the time Hormel came on the scene. The same year Geo. A. Hormel and Company was founded, he and a business partner bought a small creamery nearby, which they transformed into a slaughterhouse and smoke house. Though their products soon became the talk of the town, they dealt with low profit margins and competition from larger operations which could afford state-of-the-art equipment. But, George pushed through, eventually hiring his two brothers and other family members so he could focus solely on management.
In his management position, George focused almost completely on expansion. He struggled against bigger companies because they had refrigerated rail cars. Deciding not to be run out of business, George spent $40,000 on renovating his plant and buying necessary equipment, like those railcars. A portion of that money also went toward buying adjacent land, which allowed for more expansion.
Soon, Hormel had sent salesmen all over the country to set up branches and distribution centers, including Atlanta, Birmingham, Minneapolis, Dallas and more. He also traveled to England to set up an export business. Things were looking up for Hormel, and even a massive embezzlement scandal after World War I couldn't keep them down. The company kept innovating and creating new food products, including the ever-popular Hormel chili, which was first created in 1935.
The Birth of SPAM, World War II and Beyond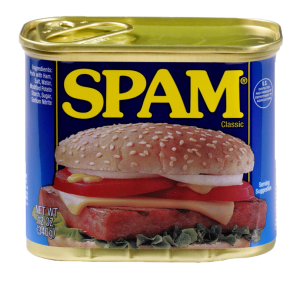 SPAM was first released in 1937, becoming an extremely popular, inexpensive luncheon meat we still enjoy today. When the United States became involved in the Second World War, SPAM became a staple of overseas forces. Soon, Hormel was producing 15 million cans of it per week, for both domestic and overseas use. Though SPAM had faced ridicule during and after the war, the numbers showed a different story: By 1959, more than 1 billion cans of the meat had been sold.
When George died in 1946, his son Jay took over the business. He opened several new production and distribution plants all over the country. In addition, he added a variety of products to the company's portfolio. However, many of these products were high in sodium and other unhealthy ingredients. In the 1990s, Hormel began developing healthier products, while not abandoning staples like SPAM. They moved from the meatpacking industry and focused more on value-added food production, while never abandoning George's motto of "innovation, not imitation."
Today, Hormel provides a wide variety of products that are enjoyed throughout the United States and throughout the world. Recently, they celebrated their 125th anniversary, and with their dedication to innovation and to providing high-quality food, they will be a staple of the American culture and economy for many years to come.
The First Can of SPAM Was Sold in 1937. Here's What Else Happened That Year:
Franklin D. Roosevelt was sworn in for his second term

Abraham Lincoln's head was dedicated at Mount Rushmore

Amelia Earhart and her navigator, Fred Noonan, disappeared

The first guard took his place at the Tomb of the Unknowns in Washington, D.C.

The first edition of J.R.R. Tolkien's

The Hobbit

 was published

The Hindenburg zeppelin burst into flame, killing 36 people

Walt Disney's

Snow White and the Seven Dwarfs,

the first traditionally-animated feature-length film, premiered in theaters
Try This Pumpkin Spice Hormel Chili Recipe!
Autumn is officially here, and Halloween is just around the corner. Warm with this tasty pumpkin spice chili recipe!
Makes 6 servings
1 tablespoon olive oil
½ cup onion, chopped
½ teaspoon ground pumpkin pie spice
2 (15-ounce) cans Hormel chili
½ cup cubed pumpkin
6 miniature pumpkins (optional)
Directions: In large saucepan, heat oil over medium heat. Sautée onion 7 to 9 minutes or until translucent. Add pumpkin pie spice and cook 1 minute. Stir in chili and pumpkin. Bring mixture to a boil; reduce heat and simmer 20 minutes or until pumpkin is tender.
Mini Pumpkins: Heat oven to 400°F. Place whole pumpkins on a lightly greased baking sheet, stems up. Bake 20 minutes. Let stand 10 minutes. Cut stem off and scoop out seeds.