Whether you're a fan or not, it is hard to deny that professional wrestling is a multi-million dollar business. While to some, it's more sports entertainment than actual sport, it still boasts one of the most loyal worldwide fan-bases of any media property. After more than a decade of producing the only authentic WWE videogame on the market, videogame developer (and DKC clientCMPunk2-224×300) THQ decided it was once again time to shake up its traditional formula and turned to DKC for help.This year THQ started from scratch and rebuilt the game using a new engine and new computer models of the WWE stable of talent. Now re-named simply "WWE '12," the game will street on Tuesday, just days after the company's popular "Survivor Series" pay-per-view invades Madison Square Garden to celebrate its 25th anniversary.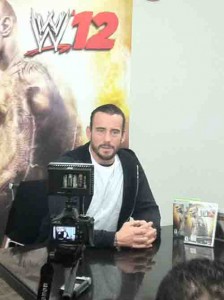 CM Punk's media tour took him to
DKC's Fifth Avenue offices.
To help us re-launch the now more "mature" franchise, DKC was given access to CM Punk, one of the WWE's top stars and also one of its most vocal. As a result of his real-life contract dispute being played out across the show's storylines this summer, Punk's popularity has never been higher with the WWE fans; a fact not un-noticed by us.
DKC leveraged Punk's "straight-edged" no holds barred style to book him on a local morning show (WPIX), a top satellite radio show ("Opie & Anthony"), Sports Illustrated.com's "Hot Clicks" podcast and on a number of major mainstream entertainment, video game and sport-centric outlets (with many taking place here at our offices).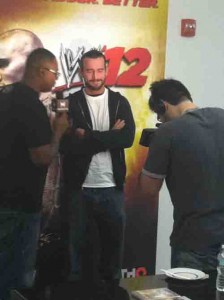 CM Punk is interviewed at DKC.
Having CM Punk at DKC's disposal was invaluable to the success of our media day as reporter after reporter told us how much they enjoyed talking with him and how they could have gone on well beyond their allotted time. In many cases, the reporters also shared those sentiments over Twitter, on Facebook and across the social media landscape.
It's no wonder Punk comes out to the ring with Living Colours's "Cult Of Personality" blaring in the background as his charismatic appeal is almost cult-like to the WWE universe; and for good reason.
By Brett Gold, Senior Account Executive