When we left work early Friday to try to snag a spot in the line at the Meatpacking District Apple Store to get one of the first iPad 2s, we knew that we didn't really have to be there. Just that morning, Apple had enabled online ordering. Waiting two weeks for a new Apple product, however, is a lifetime for us, DKC's biggest Apple fanboy and fangirl. Not even the weather could deter us. Apple has made these launches into must-attend events for early adopters – a feat which their competition has yet to duplicate.
Build Anticipation
For the past few months, you couldn't avoid news about the iPad 2. Reports, while often contradictory, appeared regularly. Would it have a camera or two? Would the screen have a sharper resolution? No one seemed to agree and at one point, our hopes were almost shattered by rumors that production delays would hinder the consumer release until the summer. But, at long last, on March 2nd it happened, the formal launch announcement. Apple"¨CEO Steve Jobs returned, taking the stage to a standing ovation, critiquing the competition, and at long last, demoing the highly anticipated device.
Turning a Launch Into an Event
By March 11th, the iPad 2 had been covered ad nauseam and nothing was going to satisfy anyone's curiosity except for experiencing the real thing for yourself. We needed to be there to be among the first to own one and see if it lived up to the hype. Turns out, we weren't alone. By4:30 PM adiverse crowd had already formed a line all the way down ninth avenue and was only getting longer by the second. Behind the police barricades and beyond, we sawthe young and old, students and teachers, hipsters and normies alike, all coming together in the name of Apple. Our journey for the iPad 2 began at the end of the line, and by the end of the line, we mean Tenth Avenue and 17th Street.
Keep the Crowd Happy
Was our fervor dampened by the size of the line? Not at all. We were surrounded by others into technology. No matter what their age, their energy was contagious. We called friends. Others gave regular updates by phone to their friends about their position in line. Friends of our linemates stopped by to offer encouragement and coffee. One man wore his iPad 1 as a bauble with a note scrawled across the screen (digitally, of course) where he questioned why he was back for a second time. We(@DKCnews, @MCaldecutt, @Courtebow) tweeted constantly, not only to stay in the know, but also to keep our fingers from freezing. Friends and followers on Twitter told us the scenewasn't much different at other locations. In front of us, another man read from a print magazine as it slowly got darker. And, every hour or so, the line moved. By 6 PM the sun had set and it was beginning to get cold.
It was all hands on deck at Apple's Meatpacking District location with all of the store's 250 employees doing their part to make sure that we stayed on line and remained hopeful. They watched as we slipped off the line to get coffee or take a quick stroll to get the blood circulating in our hands and feet. They kept us updated on what was selling and what was already sold out. Employees told us that if we couldn't get what we wanted, we'd be offered a chance to swap our purchase for a new device during the first two weeks and that their exchange policy would be pretty lenient. Still, the line never got smaller. As we got ever closer, another employee pushed a cart of SmartWater down the line, clearly reminding us of the smart decision we've made to wait for 4 1/2 hours!
Reward your fans
At exactly 9:25 PM, our time had come. Once in, the atmosphere was festive with up tempo music playing throughout the store. No less than five employees thanked us for waiting. When we got to the front of the line, we were quickly greeted individually by an employee who shook our hand and enthusiastically asked us which model we wanted and speedily returned from the storeroom with it. We were taken to a bench where we could unbox our iPad 2 (an "adult Christmas" we were told) and ask any questions while it was booted up for the first time.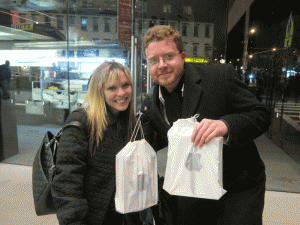 It may have taken a total of five hours, but we wouldn't have missed it for the world. Cold, hungry, tired, and numb from standing, we got our devices, and were among the first to walk out into the night clutching our 'smart case'-covered iPads to our person. The line stayed strong until at least 10 PM.
So, would we go through it all again? Obviously. We hear the iPad 2 is pretty much sold out in New York and the wait online is two to three weeks minimum.
– Sent from my iPad"¦2
Posted by: Matt Caldecutt and Courtney Greenburg